Established in 2004 as a design consultancy, IRD has promoted a holistic philosophy from day one, looking at the whole picture rather than the different constituents of individual projects.
Too often, the design is divided into so many parts that the overall vision of the project is lost, but IRD was committed to changing this approach, and today it is known for its inclusive design methodology.
IRD is a boutique firm, providing personal attention found a niche market for clients that realised the value of a well-designed environment. These clients operate across multiple sectors, from hospitaly, education and entertainment through to corporate and institutional.
The built environment has a huge impact on all our lives. Where we work, live and play affects our wellbeing, our opportunities and our potential. No one knows this more than IRD, which strongly believes that design can transform lives. 'Inspired Design – Disciplined Action' is its tag line, with the firm priding itself on its ability to combine balanced aesthetics, usability and state-ofthe- art technical solutions.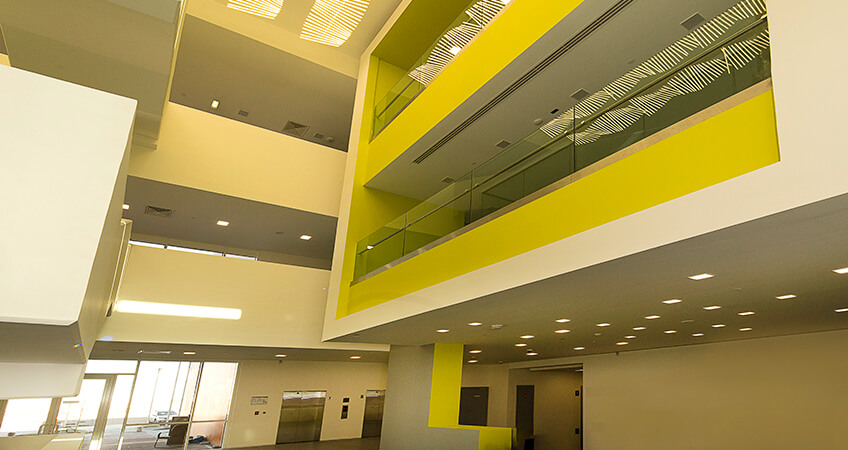 IRD has been associated with the Association of Professional Interior Designers (APID) since its inception, welcoming its standing as a collective voice that represents the entire interior design industry. APID is the only professional membership organisation representing interior design across the Gulf region, promoting the highest professional ideals of the sector to client bodies, whether governmental, the private sector, industry, its own membership, or society as a whole. Moreover, APID stands alongside other representative bodies and institutions and participates fully in local and international events. APID is the first association of its kind in the Arabian Gulf.
For IRD, and members in general, APID helps recognise the work done in the region, bringing credibility to design professionals. Of course, there are still challenges to be tackled and APID is at the forefront, not least in its quest to introduce legally binding regulation to the industry. At the present time, anyone can practice interior design and copyright control, and this is clearly unacceptable.
However, IRD is confident that over the next few years interior design will become a regulated industry with liability on the designer and contractor to ensure that safe workmanship is carried out to a respectable standard. By creating a 'responsible' framework, it will become necessary to have only qualified people undertaking interior design, which will be a good thing for both the industry and its clients.
APID, as member of the International Federation of Interior Designers/Architects, is committed to the global advancement of the interior design community. Maintaining the highest standards and best practice in interior design, it attests to the qualifications of its professional members by issuing a certificate of membership, giving peace-of mind to clients and efficacy to its members. IRD will continue to stand with it every step of the way, as it strives towards tighter regulation and guidelines.
AMITY – PREFUNCTION LOBBY

AMITY – CONNECTING BRIDGE

AMITY – PREFUNCTION LOBBY
I R DESIGN
P.O. BOX 31942
DUBAI
UAE
T: +971 4 3625280
E: CONTACT@IRDESIGN.CO
W: WWW.IRDESIGN.CO