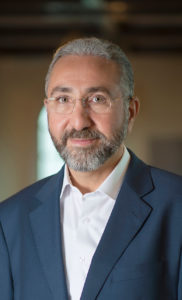 The story of Bond Interiors began with a handful of engineers who had a very simple vision – to deliver on time the best possible fit-out as per client brief. Moreover, the company's philosophy was equally straightforward too, as Founder and Managing Director Saad Moaswes explains: "Focus on commitment and hard work in a direction that benefits all stakeholders. Throughout our history, it has been our business ethics, love of people, and keeping clients in our focus that have been our driving force."
First opening its doors for business in 1986, Bond Interiors started out as a small maintenance company in the fit-out market with a total of five employees. The required start-up cost was low and most of the work was subcontracted. In spite of this, the company started experiencing difficulties in finding reliable subcontractors. This led to the setting up of in-house workshops and divisions, which helped significantly when it came to quality control and meeting delivery dates. In time, these workshops were developed into serious production facilities, supported by an increase in skilled manpower.
Today, specialising in interior fit-out contracting and furniture manufacturing, Bond Interiors has grown to be one of the largest companies of its type in the region. With an excess of 2,000 employees and 550,000ft2 of sustainable purpose-built in-house production facilities, mainly joinery, glass works, Mechanical Electrical and Plumbing (MEP), solid surface, metal works, upholstery, signage and civil works, Bond Interiors has achieved high standards of workmanship, quality, and on-time project handovers across a broad range of sectors, including hospitality, retail, Food and Beverage, healthcare, aviation, corporate, and banking.
As Far as a Creative Mind Can Travel
Operating in seven different international locations – Dubai, Abu Dhabi, Sharjah, Philippines, India, China, and Italy – Bond Interiors has the experience and know-how to deal with any challenge, no matter how complex, with Saad Moaswes saying: "Obstacles and challenges are frequent occurrences in most of our projects, as each project is unique in design and fit-out and the deadlines are always tight. Fortunately, our skilled engineers and workers, along with the company's three decades-plus of expertise, convert these complications to favorable outcomes every time."
Over the years the strength of the company has been its adherence to quality work, with projects from diverse sectors, ranging in value, size and complexity. In fact, Bond Interiors has successfully completed an excess of 4,000 projects over the past 33 years, going beyond customer expectations in terms of both quality workmanship and customer service.
Bond Interiors' commitment to meeting project deadlines without any compromise of its high standards, have given the company one of the most valued and respected names within the fit-out industry. "Prioritising employee welfare and pioneering the implementation of the latest fabrication technology are key factors that have played a vital role in building Bond Interiors from within and beyond," says Saad Moaswes. "This has helped our company in developing long-term relationships with a broad range of blue-chip clients by demonstrating best fit-out practices and driving innovative construction solutions."
With Expo 2020 just around the corner, a huge surge in projects across all sectors is expected and Bond Interiors is well equipped to accommodate the influx with an in-house expansion that has been strategically implemented over the last few years. "The 550,000ft2 of sustainable purpose-built in-house production facility broadens our ability in producing unique and custom design features that can stretch as far as a creative mind can travel," explains Saad Moaswes.
Therefore, with the successful handover of the newly refurbished and iconic Jumeirah Beach Hotel, plus the recent awarding of two new iconic luxury five-star hotel projects on The Palm and in Business Bay, Bond Interiors is in no doubt that the Expo 2020 will encourage more similar projects, thus bringing about an overall growth not only to the company, but also across the industry, economy, and the whole regional infrastructure.
More Than Just a Company
Looking to the future, Bond Interiors is unswerving in its commitment to retain its pre-eminent position as the region's leading interior fit-out company, continually evolving in order to deliver distinctive, durable spaces in a sustainable manner that surpass clients' expectations.
And it is its people that will be at the forefront of this ongoing evolution, with each member of the Bond Interiors' team being dedicated to delivering on the company's core values of integrity, performance, and relationships. Or to put it in simple terms, they do what they say they will do when they say they will do it, placing clients' needs ahead of all else. "Bond Interiors is not just a company, it is a community," Saad Moaswes concludes.
BOND INTERIORS
P.O. BOX 15758
DUBAI
UAE
T: +971 4 2711727
E: INFO@BONDINTERIORS.COM
W: WWW.BONDINTERIORS.COM