A mixed-use development comprising of two towers, A and B, One Za'abeel is to be found right in the heart of Dubai, with Tower B, which will have overhead connectivity with Za'abeel Park. It will be a residential building that consists of seven basements, a ground floor, three podiums, 54 floors, and a roof.
SPECON's scope of works on this project is extensive and includes, but is not limited to, Engineering, Procurement/Supply, Installation, Testing, and Commissioning of the following:
HVAC, plumbing and drainage, firefighting, LPG, and fuel systems
Electrical works, including MV power distribution, emergency lighting, BMS, fire alarm, lighting control system, and containment to all ELV systems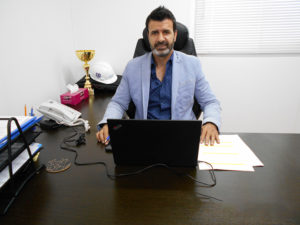 "There are two private high voltage substations in the scope of works, too," says Project Director Nasser Khalaf. "HV substations are usually under the control of DEWA, so this is very different to the norm as SPECON has an MEP license for upto 132 KVA substation works one under current execution with the esteemed client DEWA."
Looks Great, Feels Great
On any major project there are challenges to be met, and One Za'abeel is no different, as Nasser Khalaf explains: "The location of the project makes the logistics extremely challenging. We find the way through this by having a logistics manager and his team working very closly with all suppliers and the main contractor to schedule material deliveries. The main contractor has recently implemented an online logistics booking system (KABAN) for greater effeciency and transperancy of scheduling and management of tower cranes, site deliveries, and personnel hoists."
Architecturally, One Za'abeel is an aesthetically pleasing development that features two towers built across a flyover. A link bridge connects both towers at a height of somewhere in the region of 100 metres, which will be the world's largest cantilever.
On the sustainability and environmental impact front, this important and prestigious project is categorised as LEED Gold, which means that all contractors, including of course SPECON, need to achieve very stringent criteria and goals related to the materials and resources, encompassing water efficiency, energy, and air quality.
The Place to be Seen
A team of 77 staff and a workforce of 300 are currently working on the One Za'abeel project. At the peak of operations there will be around 100 staff and a workforce of 1000 skilled and committed labourers.
"The target completion date is 31st July 2020," Nasser explains.
"A lot of people enquire about The Linx. They wonder what it is; a number of them even ask if it's merely a bridge between the two towers. It is definitely not just a bridge! In fact, it's going to be a good surprise. It is actually a part of the hospitality offering, unique venues are going to be there, signature restaurants will be there too.
"Moreover, the tower will also have its very own amenities and facilities within the building or the podium, such as swimming pools, playgrounds and gyms. Residents can be assured that whenever their children go out of the building to the park, it will be safe. They do not need to worry about them crossing roads which is another unique advantage of the building."
Developed by the Investment Corporation of Dubai and creating an extraordinary gateway to the Dubai International Financial Centre (DIFC) area, One Za'abeel will add a whole new dimension to Dubai's skyline when completed. Perfectly positioned for the business district, the buzzing Dubai World Trade Centre and lively Za'abeel Park, this exciting new development is going to be much more than Dubai's newest place to be seen, it will be the place that people must be.
The CEO and Managing Partner of SPECON Thrasos Thrasyvoulou states: "SPECON is very proud to be associated with the client ITHRA and all stakeholders of the prestigious One Zaabeel project. We are dealing with a very professional client involved in the project from the very top level. They are involved in daily and weekly progress meetings, resolving all coordination matters and ensuring collaboration between all parties to meet the challenges of a high quality and timely completion of this prestigious project.
"We are also proud to be collaborating with the main contractor ALEC and all client appointed Architect, Consultants, QS and Project Managers of high professionalism. There is daily involvement in planning and resolving coordination and other matters to meet the challenges of this prestigious project, and this is being carried out in a dynamic manner in relation to the requirements of the client and all stakeholders..
There is a mutually trust between all stakeholders and we are confident that with this coordination, professionalism and spirit, the project will be successfully completed."