Customers appreciate having a highly responsive, skilled, and professional contractor that they can entrust with projects, and at ADC Energy Systems they take that trust very seriously. For as a turnkey contractor in the specialist fields of cooling plants, energy and environmental services, this UAE-based company takes pride in its ability to successfully carry out and complete a broad range of challenging and often complex projects.
The original and core expertise of ADC revolves around delivering Engineering, Procurement and Construction (EPC) services to the District Cooling industry. Indeed, since it first opened its doors for business in 2006, the company has built and delivered over 25 such projects, delivering over 675,000 tons of cooling within the Middle Eastern region, ranging from 5,000 to 90,000 tons of refrigeration. ADC has expanded its operations throughout Saudi Arabia and Qatar to deliver its services to other leading utility providers in the region.
The design and construction of District Cooling schemes in most cases include the chilled water reticulation and Energy Transfer Stations (ETS). Another important component is the Energy Transfer Station ETS. The ETS room forms the front line interfacing component with building HVAC systems, and ADC has designed and built many ETS rooms across several projects. ADC has designed and built reticulation piping for several projects, either along with the DCP or in separate contracts.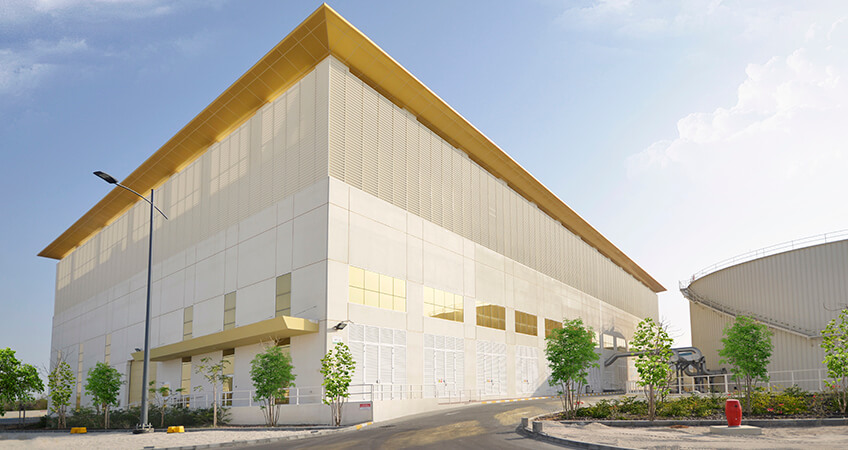 Environmental Services
ADC offers a number of environmental services, Biogas, Water and Wastewater Treatment, and Waste to Energy. In the field of Wastewater Treatment, Sludge Treatment and Waste Treatment, ADC can extract the most from biogas, offering clients the benefit of the green energy generation and re-use from the biogas produced.
Stemming from its solid foundation in EPC Contracting and valued supply chain, ADC has steadily grown its process engineering capabilities to encompass multiple aspects of municipal water and wastewater treatment. As a result, its capability to deliver technical project services covers operational and asset management within water and wastewater treatment plants; potable water; recycled water and desalination; Water and Wastewater Treatment plant design, planning and construction.
Of course, in a world with an increasing population and consumption, there is a pressing need to use our resources in the best possible way. This involves reducing the generation of waste, high-quality recycling and use of the residual waste for efficient and clean energy generation. With its in-house experts, ADC is able to combine its knowledge of both energy and waste systems to deliver bespoke solutions to its clients based on assessing their exact needs, building a specific business model, and selecting precise technical solutions.
Renewable Energy Services
In-line with its EPC principles and approach, ADC is engaged in offering a complete solution for solar system design and installation, solar assessment analysis, and consultation services for Solar PV. In addition, with the ability to produce power as much as six hours after sunset, CSP can offer the added benefit of extended power production, long after PV is able to. ADC is able to offer CSP solutions.
Quality People, Quality Projects
To allow it to successfully complete this wide array of projects, ADC has attracted and retained an impressive team of design engineers, procurement and administrative staff, and a solid group of construction specialists. In addition, ADC's valued supply chain, consisting of vendors, specialists and service providers, has been developed over the years to ensure proper alignment and integrated actions.
From a regional perspective, such inhouse expertise in all disciplines can be bolstered by key strategic partnerships with local leading general or civil/infrastructure contractors when necessary, bringing their local knowledge, qualifications, and market knowledge in order to deliver successful and competitive bids.
COOLING TOWERS WITH MODULAR DCP 7,500TR

ELECTRICAL ROOM, 25,000TR
ADC ENERGY SYSTEMS LLC
P.O. BOX 125787
DUBAI
UAE
T: +971 4 4457137
E: INFO@ADCENERGYSYSTEMS.COM
W: WWW.ADCENERGYSYSTEMS.COM