Dr Anil Pillai is the founder and chairman of 'Airolink', which was first established in Ireland in 2001. A postgraduate in business management (finance and marketing), he also holds an honorary doctorate in construction from the university of Kuala Lumpur, Malaysia. Like countless of his illustrious peers, Dr Anil had a very humble beginning. But under his leadership, many new initiatives have sprung to life, and he has been instrumental in the transformation of Airolink BC LTD., Ireland into the Airolink group, which has a presence in Ireland, Dubai, Abu Dhabi and India.
Airolink Building Contracting L.L.C., Dubai, currently holds an Unlimited Contracting License, with branches in Abu Dhabi and Sharjah. EPM: Can you give a brief introduction to Airolink? Dr Anil: One of the leading civil contractors in the U.A.E., we specialise in residential, commercial, hospitality, retail and education, o ering a complete package from land acquisition, design and construction through to completion (turnkey). We make every e ort to meet all the cost, schedule and performance requirements for every contract we have been awarded, and because of this, we undertake a lot of projects with repeat clients.
EPM: Was 2019 a good year, and how is 2020 shaping up?
Dr Anil: Airolink has ongoing works of over AED 5 billion and has another AED 5.28 billion worth
of projects in the pipeline. Many of these current projects are with well-established clients and incorporate elaborate design into the structure or façade. Two such prestigious projects are awarded in 2019 by UAE Government due to be completed early 2021. Out of Airolink's current 16 ongoing projects across a variety of market sectors, 10
of them are due to be handed over this year.
We look forward to a busy and promising year ahead, which started o with being awarded two Government school projects with built up area 26,219 SQM each; work commenced on both. We also bagged two other projects recently- design and build contract of a 160633 SQM mixed-use development project and another commercial and industrial project with a combined BUA of 157983 SQM.
EPM: What are your thoughts on the state of your industry currently?
Dr Anil: The engineering and construction industry is known for its slow adoption and adaption to new technologies, even though
it accounts for more than 6% of global G.D.P. Moreover, it consumes around 50% of the steel produced globally and 3 billion tonnes of other raw materials. Hence, it only makes sense that any improvement in productivity through the adoption of modern engineering technologies will have a significant impact on the sector.
At Airolink, we are currently in a transformation stage of embracing world-class and innovative technological opportunities, which we see as
a path to a more productive, environmentally- friendly and socially responsible future. This includes adopting advanced building and finishing materials, using modularised and prefabricated components, semi-automated equipment, use of sustainable products with optimum lifecycle value, and industry collaborations.
EPM: Do you have plans for major diversifications?
Dr Anil: Airolink will remain a true E.P.C. main contractor and will continue to engage qualified companies with expertise as subsidiaries to outsource our divisions which in turn helps create more job opportunities throughout the supply chain. Periodic engineering and financial audits help ensure that the subsidiaries perform and thereby enhance the company's profitability. We believe that such delegation of jobs contributes to striking a balance in the construction industry and the economy as a whole.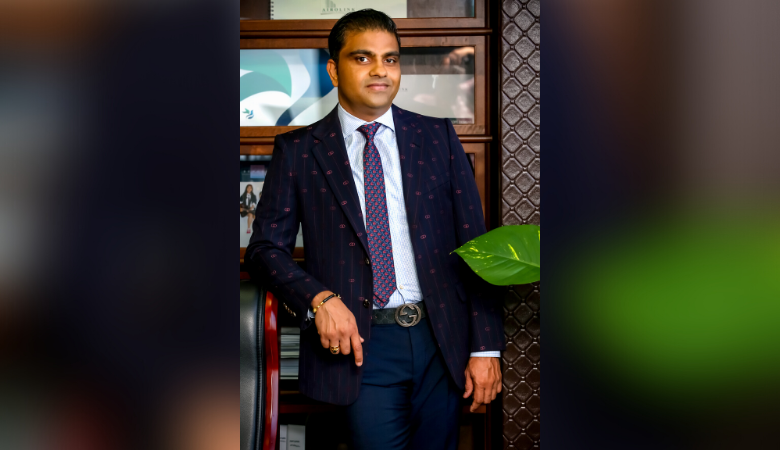 EPM: What is your approach when taking on a new client?
Dr Anil: Well, we follow a very systematic approach for project management, which ensures success in attaining the desired outcome every time. We spend a lot of time in planning the project. This begins at the conceptual planning stage,
with all the possibilities being taken into consideration and the technological and economic feasibility of each alternative assessed and compared in order to select the best option.
Next, we examine various financial schemes for the project. At Airolink, we strongly believe in maintaining fiscal discipline. Every project is programmed with respect to its completion, timing and for available cash flows. Once the project scope is clearly defined and understood, a detailed engineering design will serve as a blueprint for construction, and a definitive cost estimate will serve as the baseline for cost control.
Procurement and construction activities on-site are undertaken with careful planning and with absolute control. Procurement activities carried out in a very systematic manner ensure smooth delivery of materials on-site during execution. Post-construction, there is a brief D.L.P. period which takes care of any snags, a er which the complete handing over of the project is undertaken.
EPM: What is the way forward for the Group? Will the current economic challenges influence the future of the Group?
Dr Anil: The farsightedness of this country's rulers is one of its key advantages. Right from nurturing investments to enabling market fulfilment, the country leverages world-class people, processes and technologies. The positive approach of this country's rulers is what entrepreneurs like me look up to. As you are aware, this year has been named '2020: Towards the next 50'. This in itself shows how ready this country and its people are to face challenges if any do come. Airolink shares the same emotion and is looking for fruitful years ahead.
EPM: Do you have any words of advice for budding C.E.Os who want to succeed in the U.A.E.?
Dr Anil: For the budding C.E.O.s, I would say that your emphasis should constantly be on studying
the market to keenly observe changing trends and upcoming competition and prepare yourself to move one step ahead. More importantly, I would advise any aspiring entrepreneur to dedicate time to build a strong support system of friends and confidantes. They are the ones who keep you steady, protect your interests and ensure you are always rooted.