We are delighted to get to know his excellency Marwan bin Jassim Al Sarkal, the Executive Chairman of the Sharjah Investment and Development Authority (Shurooq).
Emirates Projects Magazine: What are the main themes of Shurooq's vision?
H.E. Marwan bin Jassim Al Sarkal: Sharjah's economic strategy is based on diversification, understanding the basic needs of investors and the desire to improve the style and quality of life for all of the emirate's residents.
In line with that, Shurooq aims to attract local, regional and global investors through its advanced infrastructure, ongoing growth and ease of business, providing premium services to make it one of the most attractive direct investment destinations in its own right and a prime business channel with the west.
As a result of this vision, in the nine years since Shurooq was established, it has developed a portfolio of completed and ongoing projects worth AED 7.6 billion extending across a total area of 11.74 million square metres.
Emirates Projects Magazine: Which sectors are you particularly targeting for investment?
H.E. Marwan bin Jassim Al Sarkal: When we first began operations, we focused our investments across four key sectors. In broad terms they were the environment, healthcare, logistics and transport, and tourism and leisure, but as the emirate's economy has diversified the spectrum of sectors has broadened and the opportunities to invest have grown with that.
Sharjah's highly-advanced diversification model anticipates, identifies and assesses which sectors will bring the greatest interest. The trend towards eco-tourism, for example, is a good example of that, along with the increased demand for investment in light manufacturing and education. There is also a significant drive for more sector-specific investment such as Sharjah Publishing City, the first free zone in the world dedicated exclusively to the publishing industry, which has attracted enormous interest from across the world.
Real-estate has also become a major focus. We have been extremely successful in applying the same diversification process to Sharjah's property sector, successfully launching a number of highlevel residential, commercial and hospitality projects, such as Eagle Hills Sharjah, Nakheel, Mabanee, Emaar Hospitality and Diamond Developers.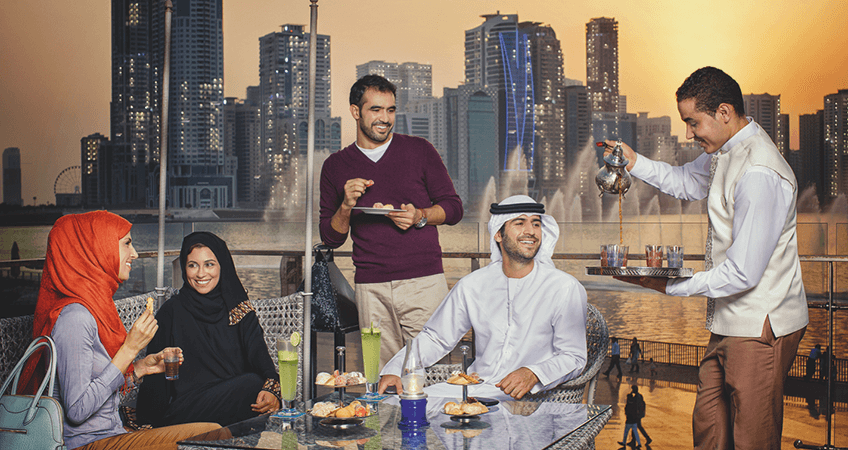 Emirates Projects Magazine: How does Shurooq smooth the progress of investment in Sharjah?
H.E. Marwan bin Jassim Al Sarkal: At Shurooq, we specialise in providing premium services to both public and private entities in order for them to invest their assets across multiple strategic options in Sharjah. Our partnerships are very much a reflection of the cooperation and support that Shurooq consistently delivers and reinforces the stability and sustainable growth of the economy.
Sharjah's reputation as a prime Middle East investment hub is growing around the world day-by-day. We have a significant presence at many of the leading international business events and are host to many others, where we have senior politicians, industrialists, business experts and economists extolling the virtues of Sharjah's rise as a model economy. And these produce tangible results; for example, we recently announced a partnership between ourselves and the first ever Korean hospital to be established in the UAE.
Emirates Projects Magazine: Please explain the opportunities and benefits available for overseas investors?
H.E. Marwan bin Jassim Al Sarkal: Sharjah has historic trade relations with more than half of the world's largest economies, stemming from common economic and cultural values that have brought us together for centuries, and continue to grow closer as the emirate exerts greater influence on the global investment community.
Having been ranked as 10th in the world in terms of being 'Business-Friendly' by the Global Cities of the Future survey and one of the top 10 cities in the world for connectivity by FDi Intelligence Magazine, the benefits of investing in Sharjah are enormous in terms of starting up, expanding, ownership, world-class sector specific facilities, infrastructure, legislation, and much more.
Sharjah has placed enormous emphasis on government integration and holistic digitisation between departments and the public and private sector, massively increasing the ease of conducting business.
In practical terms, there are also a significant number of 'one-stop-shop' facilities in many of the emirate's numerous free zones, where trade licenses can be processed in just 24 hours.
Emirates Projects Magazine: How is Shurooq supporting and encouraging SME growth in Sharjah?
H.E. Marwan bin Jassim Al Sarkal: As one of the most SME-friendly cities in the region, Sharjah has helped more than 55,000 small and medium-sized businesses set up, with support that services investors from any part of the world.
One of the ways we have supported this framework is by developing a set of flagship tourism and real estate projects, which attract a variety of SMEs and startups. Their innovative businesses feed the retail and residential needs of the relevant communities, offering a range of services and products that cater to a variety of investors, visitors and the local population.
Projects such as Heart of Sharjah, Al Qasba, Flag Island, and many more are among the top tier options for SMEs to set up businesses in Sharjah.
Emirates Projects Magazine: What are the most noteworthy projects underway at the present time?
H.E. Marwan bin Jassim Al Sarkal: Shurooq has a number of large-scale projects that are at various stages of development, and we are constantly evaluating and identifying new opportunities for domestic and foreign investors.
Among the most significant at the moment are the Eagle Hills Sharjah projects, a strategic partnership with Abu Dhabi-based developer Eagle Hills, where Shurooq launched three large-scale projects worth AED 2.7 billion. These are Maryam Island, Palace Al Khan and Kalba Waterfront, all of which are focused on promoting Sharjah's tourism sector and celebrating the emirate's heritage.
The Al Qasba Vida Hotel Sharjah is a 100-room hotel located in the heart of one of Sharjah's most popular lifestyle and leisure attractions, Al Qasba. The hotel will be operated under Emaar Hospitality Group's Vida Hotels and Resorts, an upscale lifestyle hotel and serviced residences brand, and will add yet another dimension to our flourishing tourism portfolio.
In terms of heritage developments, Al Bait, part of the 'Heart of Sharjah', has transformed authentic Emirati houses through renovation and expansion as part of a AED 100 million luxury resort to be managed by Singaporean General Hotel Management, a leading operator of world-class five-star hotels.
Also among the largest ongoing developments is the five-star Kingfisher Lodge nestled within the Kalba EcoTourism project, and Fossil Rock, part of the Mleiha Archaeological and EcoTourism Project.
Emirates Projects Magazine: What are the biggest challenges for Sharjah over the next 10 years?
H.E. Marwan bin Jassim Al Sarkal: We like to identify challenges as opportunities for Sharjah, because our economy is flexible and can cater to a variety of directions which best fit investors needs and wants.
The next 10 years for Sharjah can bring endless possibilities on market growth and segmentation. I believe our ongoing diversification strategy and insight into relevant investments will continue to generate and enhance Sharjah's standing in the global investment arena, offering increasingly attractive opportunities for a wider base of investors looking to expand into one of the most lucrative markets in the world.
SHARJAH CITY VIEW

AL QASBA

AL NOOR ISLAND