Driven by its unparalleled experience and expertise in fire-fighting equipment and systems, NAFFCO has developed a series of distinctive solutions that can be applied to a wide variety of different situations and environments.
This takes in everything from highquality and efficient fire extinguishers to highly advanced fire-fighting vehicles, ambulances, and mobile hospitals.
A UAE-based company, NAFFCO is committed to being No.1 in the industry and has already gone a long way to achieving that status, now currently exporting to over 100 countries worldwide. Its state-of-the-art fire protection systems are installed in a broad spectrum of establishments and institutions, including residential buildings, oil refineries, airports, hospitals, schools, metros and trams, leisure facilities, mining sectors, and law enforcement organisations, as well as in some of the most prestigious projects in the UAE, such as Burj Khalifa, Palm Jumeirah, Dubai Metro and Tram, and Zayed University.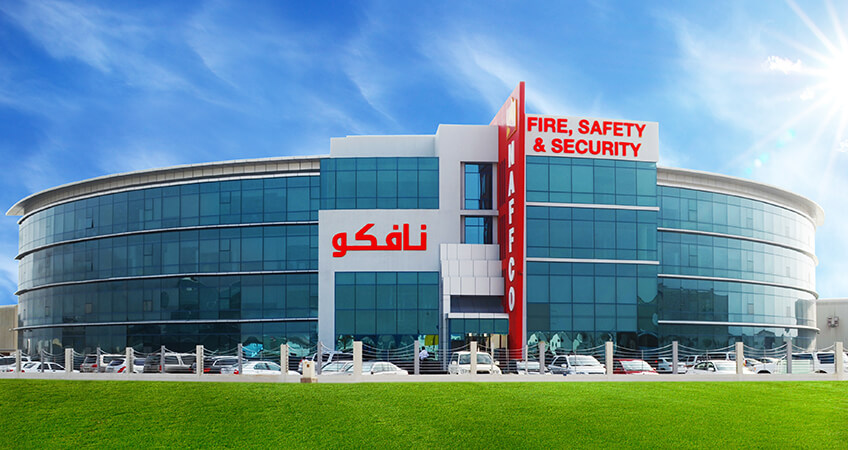 New Products, New Markets
Continually evolving and expanding, NAFFCO is looking to uphold its preeminent status in the industry by developing evermore advanced solutions. And of course, as the years go by the challenge to continually innovate will become even more important, with establishments all over the world developing their own features and safety necessities in order to stay ahead of the curve in their individual industries.
NAFFCO's objective, therefore, is to harmonise the escalation of everyone's safety needs in order to determine what its next steps will be and which new markets to tap into.
At NAFFCO, they believe that with the right team members, which today incorporate some of the most highly qualified and professional people in the sector, the company will produce more and more cutting-edge safety solutions and win many additional customers from places as far apart as Beijing, Bogotá, Sao Paulo, Phnom Penh, Guayaquil, Ashgabat, Lima, Baku, Luanda, Oslo, Kiev, etc.
A Crucial Role in Safety in Dubai
The government has a plethora of upcoming projects to support the progress of Dubai in the next 10 years. NAFFCO and Dubai concur that first and foremost public safety and fire protection is vital for ongoing development in the emirate. As the government continues to upgrade its standard in first safety and protection, fuelled by world-class landmarks, super high-rise buildings, transportation networks and other places of public interest, NAFFCO will strive to create new, relevant and timely products to contribute to the attainment of improved rescue systems in Dubai.
NAFFCO is aiming to be one of the stakeholders in the government's implementation of high standard fire safety and protection. The company recognises that it has an important role in the collaborative effort to promote Dubai's vision to ensure the safety and protection of every life and property in the emirate by offering its innovative solutions.
Many Solutions, One Point-of- Contact
What makes NAFFCO stand out from its competitors in a crowded marketplace is its commitment to the customer and its ability to provide complete fire-fighting and fire protection solutions all under one roof. So no matter what the requirement, from fire equipment, fire trucks and ambulances through to mobile hospitals and even firefighting and medical training, NAFFCO can offer a solution that is efficient, effective and fairly priced.
Indeed, NAFFCO manufactures and supply UL, FM, BSI KITEMARK, LPCB and Global Mark approved products that meets to the respective International Standards, with the company certified to ISO 9001:2015 from different certification agencies: the UL DQS and BSI along with ISO 14001 and ISO 45001 certified by UL DQS.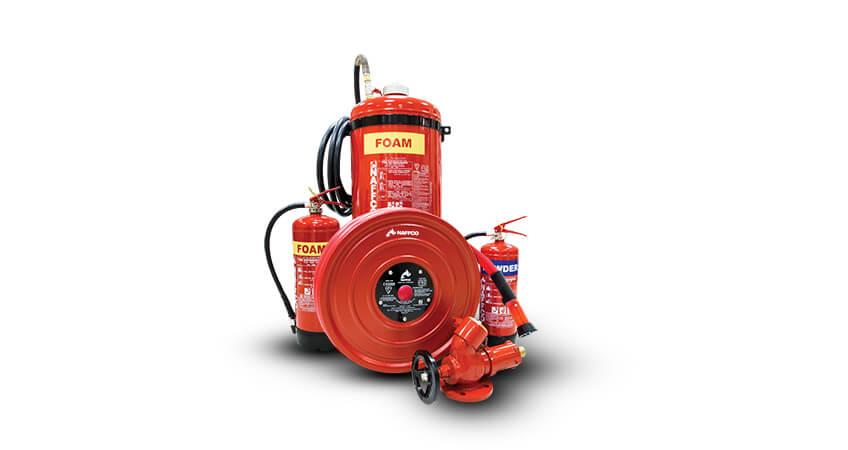 A Fire-Fighting Robot
NAFFCO is constantly seeking to research, develop and launch new products and services, often innovative products that are pioneers in the market. Its latest innovation is the NAFFCO Robot model NR-997, which is a high-technology firefighting robot suitable for wide range of scenarios, including blazes in large open areas such as petrochemical plants, oil tank facilities, forests, Class B fires, toxic gas, and liquid leakage. This robot is also ideal for fires that are too dangerous for fire-fighters to reach.
To increase driving safety NAFFCO is first to introduce replacement of conventional mirrors with water and dust resistant high resolution cameras with fast response time in changing light conditions, night vision and operating temperature -40ºC to +85ºC.
The company has also launched the Pump Clouds, which use an interface unit that enables 24/7 monitoring of fire pumps. NAFFCO facilitated with inert gas filling for 68 litre to 140 litre and leak testing that are safe, clean and a natural way to extinguish fires. This encompasses IG01, IG100, IG55 and IG541 gases with all the components needed to configure a complete system for a 200/300 bar inert gas extinguishing agent.
The Best Solutions, the Best People
As it works on more and more projects as the years go by, NAFFCO will look to attract and retain additional staff members to meet demand. This will help the company to achieve a smooth execution of its proposed platforms, as well as adding new outputs, which will assist it in getting closer to attaining its objectives.
With the help of its talented human resources team, NAFFCO will carefully select passionate and talented people to step inside its world and harmonise with the company's vision and diversity.
Keeping Abreast of the Latest Technology
There is no doubt that technology will play an even greater role in fire safety over the next 10 years. It is true that nowadays technology already has great influence and, although 10 years is not that long, technology escalates so quickly that it will no doubt bring huge changes to the world.
As of today, the products and services offered by NAFFCO are based and inspired on the latest technology. This is an advantage because technology turns what we think is impossible into reality, especially when it comes to rescuing. As already mentioned, the company has recently launched a robot, but it believes that it can go further into a smarter level of technology. For example, it can present wearable technology by developing its fire-fighting gear. This will use sensors to monitor heartbeat rate, movement, locate people, and will serve as a tracking device, too. NAFFCO will also look to develop a smart fire-fighting hose and computer programmed smart fire alarms.
It is not certain what technology will bring us in the approaching years, but one thing is for sure – technology will promote advancement in the industry, probably to levels we cannot yet imagine.
Education and Recognition
Over the next decade, in addition to great advancements in technology, it is also hoped that people will become much more knowledgeable about fire safety measures, and with any luck will see the importance of fire protection in their daily lives. An improved recognition will also help in minimising property damage and financial loss.
This is also the reason that NAFFCe offers fire safety and NFPA trainings; to maintain people's awareness in fire safety and protection. With the population constantly on the rise in Dubai, this is a very challenging, but also exciting, time to be working in the fire safety industry. A growing number of companies, organisations and individuals are seeking safeguards from the dangers of fire, and this is one of the primary factors in keeping NAFFCO motivated to produce increasingly advanced and practical solutions, and in doing so promote protection and save lives.
NAFFCO
P.O. BOX 262169
DUBAI
UAE
T: +971 4 8151111
E: INFO@NAFFCO.COM
W: WWW.NAFFCO.COM