Continued diversification achieved during 40th anniversary of operations
Ducab Group, one of the UAE's largest manufacturing businesses, has announced a 5% climb in overall profitability in 2019, driven by gains in key areas of its cable and metal manufacturing portfolio.
Commenting on the company's performance in 2019, Dr. Ahmad Bin Hassan Al Shaikh, Chairman of Ducab, said: "Ducab's 40th anniversary of operations saw our position as a leading manufacturer in the UAE solidified through a strong commitment to both the local and international markets. We are proudly flying the flag for 'Made in UAE' products across the world, with Ducab cables and accessories now used in more than 30 countries."
With six manufacturing facilities across four sites in the UAE, today Ducab has a manufacturing capability of over 115,000 metal tonnes of high, medium, and low-voltage cable solutions, an upgraded production capacity of 175,000 tonnes of copper rod and wire per annum, complemented by 50,000 tonnes per annum of aluminium rod and overhead conductors. Ducab exports 60% of its overall production worldwide.
The Ducab Group secured a number of strategic contracts during the year. This included a series of partnerships with ADNOC to provide its advanced range of cables and overhead conductors designed specifically for the oil and gas industry, as well as offering continued maintenance, repair, and evaluation of existing cables throughout ADNOC's extensive operations.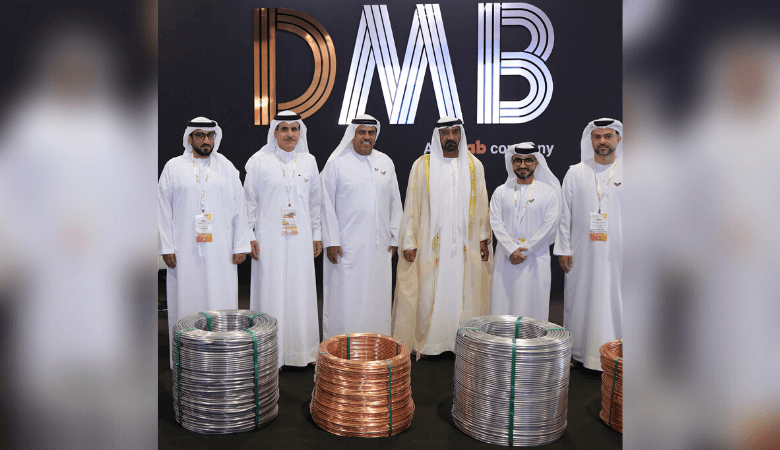 Ducab Cable and Wire Business:
With its rich supply record to the soon-to-start Barakah nuclear power plant in UAE, it was also a year in which Ducab further reinforced its commitment towards developing the UAE's alternative energy sector. Ducab has developed its own rooftop solar plant at its new head offices in Dubai for on-site power generation, part of the company's wider efforts to support the UAE's solar energy agenda. The company was also the supplier for a wind scheme in the Dhofar region of Oman, and provided its cables for a number of solar power plants within the MENA region.
Outside of the energy sector, Ducab confirmed last year that it will meet over 90% of the cable requirements for the Expo 2020 project including the Route 2020 Metro expansion. The company has also been a supplier to the Riyadh Metro in KSA and Delhi Metro and Lucknow Metro rail projects in India.
Ducab HV/EHV Business:
In 2019, Ducab-HV (DHV) made good progress towards key strategic targets including extending the product range and developing new markets. Highlights included successful manufacturing and delivering of DHV's first 220kV cable order to Abu Dhabi National Oil Company (ADNOC); achieving record monthly production volume in November 2019; energization of the full turnkey 132kV system for Phase 3 of the Mohammed Bin Rashid Al Maktoum Solar Park; completing a 220kV system type test, and commencing the one-year pre-qualification test in a European-based test laboratory.
Ducab Metals Business:
Meanwhile, Ducab's copper and aluminium business—which includes Ducab Aluminium Company (DAC) and the Ducab Copper Rod Plant, recently consolidated into a new business unit Ducab Metals Business (DMB)—also saw impressive gains. In 2019, Ducab's copper and aluminium business generated over AED2 billion in sales with over 75% of the overall production being exported. The company also increased its copper capacity by 30% to 175,000 tonnes, along with 50,000 tonnes of aluminium, which is allowing the company to grow the number of markets it serves.
Over four decades, Ducab has expanded in parallel with the UAE's wider investments in industrial manufacturing, guided by the Dubai Industrial Strategy 2030 and the Abu Dhabi 2030 vision.
Covid-19 Response
Referring to the COVID-19 pandemic and its effect on Ducab, Dr. Al Shaikh added that the company is fully committed to protecting its employees whilst maintaining business operations as per the advice from the authorities. "Ducab factories are all operating and there have been no significant interruptions in the company's supply chain due to COVID-19. Remote working for office staff and other distancing measures are in place but we have been careful to ensure that there is no impact on customer service and deliveries."